Thank You! to the
NICU at Johns Hopkins Hospital in Baltimore
and Bi-Rite Supermarket for your support.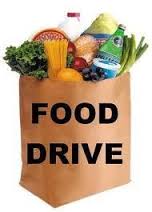 On behalf of the Power House World Ministries Family, I would like to take this opportunity to thank each one who selflessly contributed to the food drive held on behalf of families who are not as fortunate as others are. This food drive had very little to do with me, and everything to do with expressing love and compassion to the children of 0-low income families. If you know of a family who may be in need, please share their story with me.
During the summer months, children who would normally receive meals in school do not get the proper nutrition they need during the summer months, they are home all day and food does not stretch throughout the month. We realize that we will not reach every child in need, however, we are willing to help as many as we possibly can. To date, because of your kindness and generosity, we have reached our goal and collected enough perishable and nonperishable food items.


On behalf of Bishop James A. Winslow, Jr., Pastor Nancy R. Winslow, and Power House World Ministries,
Thank You!


We cannot fully express the depth of our gratitude. May God forever bless and keep you, that you may reap a bountiful harvest for what you have sown, Love.
Very Special Thanks to: Sarah Rutter, Lindsey Savino, Sue Culp